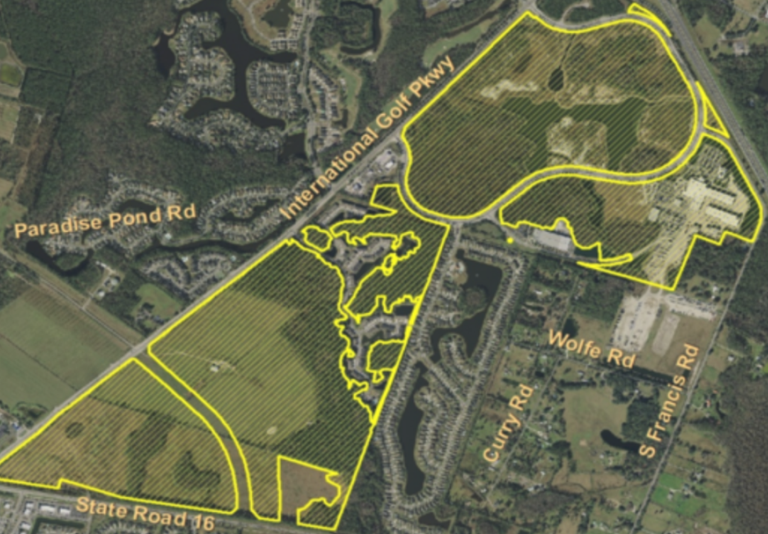 Health care giant Ascension remains committed to building a $115 million hospital in Northern St. Johns County, but it has backed away from a site within the World Commerce Center masterplanned community that it had initially planned on, an Ascension spokesperson said by email.
"Our plans to build a hospital in northern St. Johns County continue as scheduled and we are still assessing multiple location options," said spokesperson Kyle Sieg.
A representative of Steinemann & Company, which is developing World Commerce Center along I-95, said Ascension had signed a letter of intent to develop its hospital in the masterplanned community, but that agreement has been terminated. The site is still available for hospital use, the representative said.
David Meyer, chief strategy officer of Ascension Florida and Gulf Coast, previously told the Business Journal that St. Johns County's fast-growing population and low per capita health care capacity made it it ripe for hospital construction.
Myer said the 60-bed St. Johns hospital will be modeled after the hospital Ascension built in Clay County six years ago. That facility opened as a 64-bed facility in 2014, expanded to 106 in 2016, then added another 30 beds in 2018.
Northern St. Johns County has attracted significant interest from health care companies in recent years. Flagler Health+ and UF Health are partnering on a $150 million campus, and Baptist Health has purchased a 35-acre site for its own campus.
However, Covid-19's temporary prohibition against elective procedures, increased demand for medical supplies and drop in patient visits has hit health care systems revenues hard, causing many to pause construction plans. Ascension, which employs about 5,300 in Jacksonville, saw a net loss of more than $2 billion in the first quarter, but it has been buoyed by a $700 million line of credit, a $300 million bond and $2 billion in stimulus funds.
The company is underway on $800 million in construction across its 20-state footprint. In Jacksonville, it is underway on two emergency departments, finalizing construction of a $55 million Riverside facility and conducting a $23 million renovation of its Southside facility.
Source:  JBJ
https://floridamedspace.com/wp-content/uploads/2020/06/ascensions-former-jacksonville-site.png
534
768
admin
/wp-content/uploads/2020/08/florida-medical-space-logo.png
admin
2020-06-18 01:56:52
2020-12-28 02:48:08
Ascension Decides Against World Commerce Center Development In Jacksonville