New Adult Medical Care Model Expands To Sarasota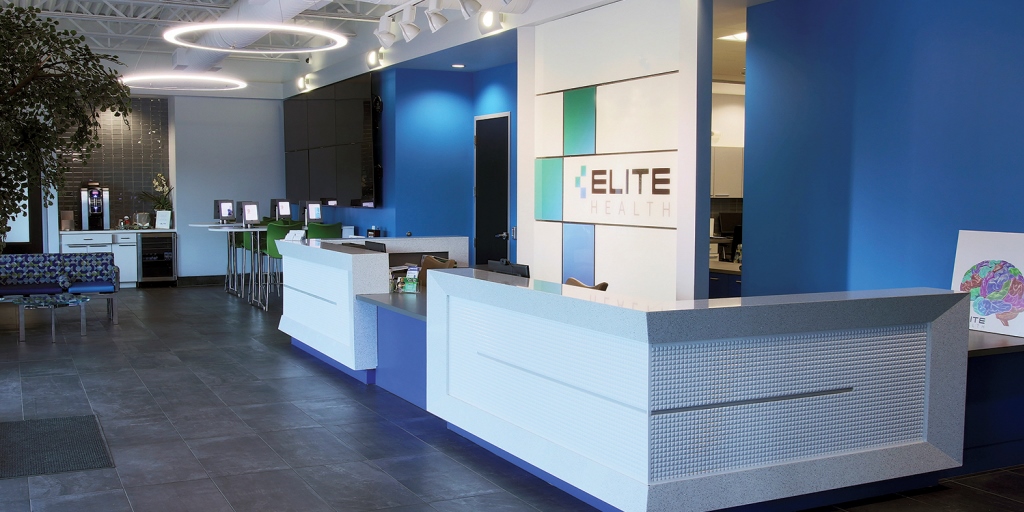 For many older adults, making the rounds to various doctors' offices to address multiple health issues can amount to a full-time job — one that comes with cascades of paperwork.
But at a new medical practice that opened Friday in Sarasota, the patient's user experience has been conceived to feel more like a casual drop-in at an Apple computer store in the mall. Walk into the just-completed EliteHealth location in Midtown Plaza, and instead of a receptionist handing you a clipboard through a tiny window, you'll encounter a soaring, white-walled space reminiscent of an airport VIP lounge, punctuated by vibrant splashes of purple, teal and spring green.
The use of this "Apple palette," said Steve Schnur, a Miami cardiologist and CEO of EliteHealth Medical Centers (elitehealth.com), has been found to transform a newcomer who might be feeling unwell and hesitant into a welcome guest who's smiling and calm.
"The way we're doing it — I don't really understand why it hasn't been done before — is about trying to take away the pain points that older patients experience," Schnur explained. "The first thing that we did in our model was get rid of the waiting room." Patients are escorted instead into "intake pods," then proceed into adjacent examining rooms where large touch screens help doctors give visually enhanced consultations. Nutritionists, wellness coaches and other members of the team come to the patient, and many procedures — including lab draws, X-rays, allergy tests and even genetic or heavy-metal screens — are done onsite. Extras like transportation, house calls and a 24-hour virtual assistant are available to members of the concierge-like "Senior VIP program." "We're really a pioneer in the world of artificial intelligence," Schnur said, adding that Elite's data processing and billing are outsourced to the Dominican Republic to save costs. "The only thing done onsite is customer experience. There are no phones ringing, no papers thrown around. We're paid by insurance companies, so our incentive is to practice more prevention and wellness. We don't get paid extra to do a test; we get paid extra if the patient stays well." Expansion Planned Primary care physicians have long looked for ways to keep adult patients functional instead of merely responding to each medical crisis as it erupts. But aside from the small sector of concierge practices that cater to patients who can afford annual retainers, the business model for wellness practices has remained fragile. EliteHealth, which owns six medical centers and manages 20 more, got a boost last year when Humana Inc. added its South Florida locations to the insurer's Medicare Advantage Plan network. Sarasota is the first expansion site for Humana MA patients outside the Miami-Dade area, and those members will provide the foundation for the start-up here. But EliteHealth is open to anyone over 18, at any stage of health, and accepts most insurance plans. A Venice location is due to open soon, and a second Sarasota office is "in the pipeline," according to Nema Runyan, a physician overseeing the local launch. Another obvious departure from the standard doctor's office is a large, glass-enclosed activity room, designed to host wellness education sessions and fitness classes that range from gentle stretching to Zumba. It's right up front and visible as you enter, an inescapable message that you've come to a place where constant encouragement to get and stay healthier will be part of the care package. Schnur said between 30 and 40 percent of visitors to his South Florida sites come for the wellness programs and not to see a doctor. "As we get older it's important that we know that our choices still matter," Runyan said passionately. "We're not too old, we're not too fat, we're not too thin, and every little bit helps. Activity doesn't mean running a marathon or scaling Mount Everest; it means doing a little less sitting, at your own pace." A common criticism about medical care for America's costliest patients — those with multiple complications like diabetes, heart conditions or obesity — is that specialists and hospitals tend to attack each problem separately. Health policy analysts have long encouraged the medical profession to create a more patient-friendly system, but aside from geriatric centers that rely on federal grants or medical schools, the elder care business model has been tough to crack. Changing Model A federal pilot program known as PACE — Programs of All-inclusive Care for the Elderly — has expanded since 2015 to serve more than 42,000 patients in 31 states, most of whom are "dual eligibles" — elders who qualify for both Medicare benefits and Medicaid, the health coverage for Americans with limited income. The nearest PACE center to this region is in St. Petersburg, but a new growth initiative by the John A. Hartford Foundation was announced this month, aimed at reaching five times the number of elders. The PACE program targets very frail populations with almost no assets, with the goal of keeping them independent and saving on nursing home costs. That leaves large numbers of Medicare recipients who could also benefit from a less "siloed" approach to disease management. If successful, the EliteHealth concept could provide a for-profit model that both doctors and patients prefer. "People were like, 'It can't be done; Steve, you're spending all this money,'" Schnur said. "I would always bring up the movie 'Field of Dreams': If you build it, they will come." Runyan, who took a break after closing her internal medicine practice in St. Petersburg, said she was convinced to come out of retirement by seeing the EliteHealth center in Miami. "We were compensated very well for putting people in the hospital," she said, talking about the old fee-for-service Medicare model. Unwilling to return to that life, she jumped at the chance to practice preventive care and disease management. "I like to say that a smart person can deal with the problem, but an intelligent person prevents the problem," Runyan said. "Now what they're figuring out – the business people — is that actually it works, and it saves money."