Bringing Former Hospitals Back To Life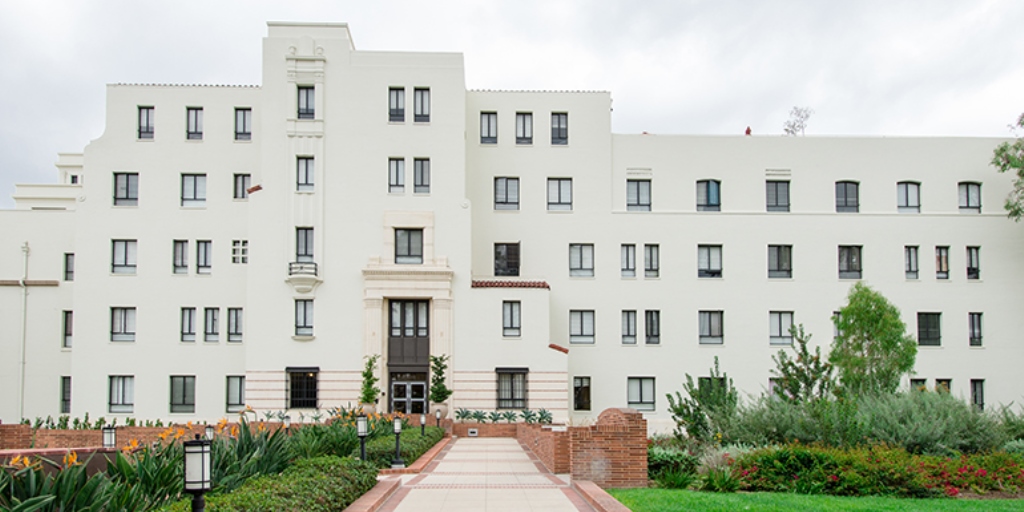 When Juana Monroy moved into Hollenbeck Terrace in 2015, she learned that the towering senior apartment building was once a busy hospital that had appeared in dozens of movies and television shows.
Then she heard the rumors that the old Linda Vista Community Hospital building was haunted. "I was a little scared," said Monroy, 60.
But she hasn't seen a ghost yet, and now she loves living in a building with such history. "It's gorgeous," she said.
Across the country, hospitals that have shut their doors are coming back to life in various ways: affordable senior housing in Los Angeles, luxurious multimillion-dollar condominiums in New York's Greenwich Village, a historical hotel in Santa Fe, N.M. In the Capitol Hill neighborhood of Washington, D.C., a hospital that opened in 1905 to care for the poor was remodeled and reopened this summer with 139 apartment units, a rooftop deck and an indoor dog wash.
Such conversions can pull at the heartstrings of communities in which residents often have an emotional attachment to hospitals where family members were born, cured or died. Nevertheless, the changeovers can also be welcome, particularly when hospitals have been long closed, their buildings left empty and dilapidated.
Closing a hospital and converting it to another use is not exactly like renovating an old Howard Johnson's, said Jeff Goldsmith, a health industry consultant in Charlottesville, Va. "A hospital in a lot of places defines a community — that's why it's so hard to close them," Goldsmith said.
In Charlottesville, he noted, Martha Jefferson Hospital closed its downtown facility in 2009 to move closer to the interstate highway, and an apartment building recently took its place.
The trend of converting hospitals to condos and apartments comes as real estate values have soared in many U.S. cities, and demand for inpatient hospital care is on the decline. Surgery and other health services are being moved increasingly to freestanding outpatient centers, and the average number of days patients stay in hospitals has dropped significantly.
Against this backdrop, the hospital industry is consolidating, and many institutions are shutting their doors. The number of hospitals in the U.S. has declined by 21 percent over the past four decades, from 7,156 in 1975 to 5,627 in 2014, according to the latest federal data.
In addition, many older hospitals are too outmoded to be renovated for today's medical needs, which include large operating room suites and private rooms, said David Friend, chief transformation officer at the consulting firm BDO in Boston.
Real estate investors say the location of many older hospitals — often in city centers near rail and bus lines — makes them attractive for redevelopment. The buildings, with their wide hallways and high ceilings, are often easy to remake as apartments.
Some of the changes have elicited controversy, however — particularly in New York, where many hospitals have been converted to residential housing in recent years.
St. Vincent's Transformation
St. Vincent's Hospital in New York, which traditionally cared for the poor and treated survivors of the Titanic's sinking in 1912, the first AIDS patients in the 1980s and victims of the 9/11 terrorist attacks in 2001, went bankrupt and closed seven years ago. Developer Rudin Management bought it for $260 million and transformed it into a high-end condo complex, which opened in 2014. Earlier this year, former Starbucks CEO Howard Schultz reportedly bought one of the condos for $40 million. The shift from a place that cared for the poor to a home for the rich upset many residents in Greenwich Village.
Jen van de Meer, an assistant professor at the Parsons School for Design in New York, who lives four blocks from the former St. Vincent's, said people in her neighborhood were sorry to see the hospital close for more than just sentimental reasons. "Now, if you are in cardiac arrest, the nearest hospital could be an hour drive in a taxi or 20 minutes in an ambulance across the city," van de Meer said.
St. Vincent's is one of at least 10 former hospitals in New York City that have been turned into residential housing over the past 20 years.
Spurring Development
In some circumstances, a conversion provides a much needed lift for the community. New York Cancer Hospital, which opened on Central Park West in 1887 and closed in 1976, was an abandoned and partially burned-out hulk by the time it was restored as a condo complex in 2005. Developer MCL Companies paid $24 million for the property, branded 455 Central Park West.
"The building itself is fantastic and a landmark in every sense of the word," said Alex Herrera, director of technical services at the New York Landmarks Conservancy. He noted that it retained some of its original 19th-century architecture.
Friend, who was on the management team that tried to revive St. Vincent's financially after it filed for bankruptcy in 2005, noted that real estate is one of the most valuable assets a hospital has. "A hospital could be worth more dead than alive," he said.
Repurposing them does not come without friction, however.
Nicky Cymrot, president of the Capitol Hill Community Foundation in Washington, D.C., a neighborhood group, said that when Specialty Hospital Capitol Hill sold off a little-used 100,000-square-foot wing of its facility to developers who planned to build apartments, neighbors weighed in with concerns about aesthetics and traffic. But the builders of 700 Constitution — the hospital-turned-apartment house a few blocks from the U.S. Capitol — preserved the old architecture, which pleased residents.
"They did a beautiful job," Cymrot said of the three developers of the building — Urban Structures, Borger Management and Ronald D. Paul Co.
The renovation cost $40 million and took nearly nearly five years to complete in part because of delays building an underground parking garage. At 700 Constitution, one-bedroom apartments rent for nearly $2,600 per month.
It's not the first hospital in the district to make such a conversion. Columbia Hospital for Women, which had delivered more than 250,000 babies since it opened shortly after the Civil War, closed in 2002 and reopened in 2006 as condos with a rooftop swimming pool in the city's fashionable West End. The developer, Trammell Crow Co., paid over $30 million for the property.
Some former hospitals are used for purposes other than housing. In San Diego, Point Loma's Cabrillo Hospital closed in 2007 and was transformed into a language school nine years later, providing economic stimulus for nearby businesses.
In Santa Fe, N.M., St. Vincent Hospital moved into a new facility in 1977 and the old structure downtown was reborn as a state office building. Later, it was abandoned and locals listed it as one of the spookiest places in town. In 2014, the building reopened yet again as the 141-room Drury Plaza Hotel.
'A Building With Tremendous History'
Linda Vista Community Hospital, which overlooks a park in L.A.'s Boyle Heights neighborhood, opened in 1905 to serve railroad employees. Budget problems and declining patient rolls led to its closure 86 years later, and the abandoned six-story building fell into disrepair.
But the empty patient rooms, discarded medical equipment and aging corridors soon attracted film crews, who shot scenes for movies such as "Pearl Harbor" and "Outbreak." The hospital also attracted trespassers looking for ghosts and groups such as the Boyle Heights Paranormal Project, said Francis Kortekaas, assistant superintendent at Amcal Multi-Housing Inc., which bought the property in 2011 and redeveloped it.
The company turned patient rooms into affordable senior apartments and renovated everything from the intensive care unit to the medical library. Amcal retained many of the building's original features, including mailboxes, dumbwaiters, windows and stainless-steel doors.
"They really rescued a building with tremendous history … while providing really needed low-income senior housing," said Linda Dishman, CEO of the Los Angeles Conservancy, a group dedicated to preserving and revitalizing historic structures. "It is such an iconic building in the neighborhood."
/wp-content/uploads/2020/08/florida-medical-space-logo.png
0
0
admin
/wp-content/uploads/2020/08/florida-medical-space-logo.png
admin
2017-10-08 23:40:58
2017-10-08 23:40:58
Bringing Former Hospitals Back To Life