New 61,000-SF Family Health Center In Lehigh Acres Nears Completion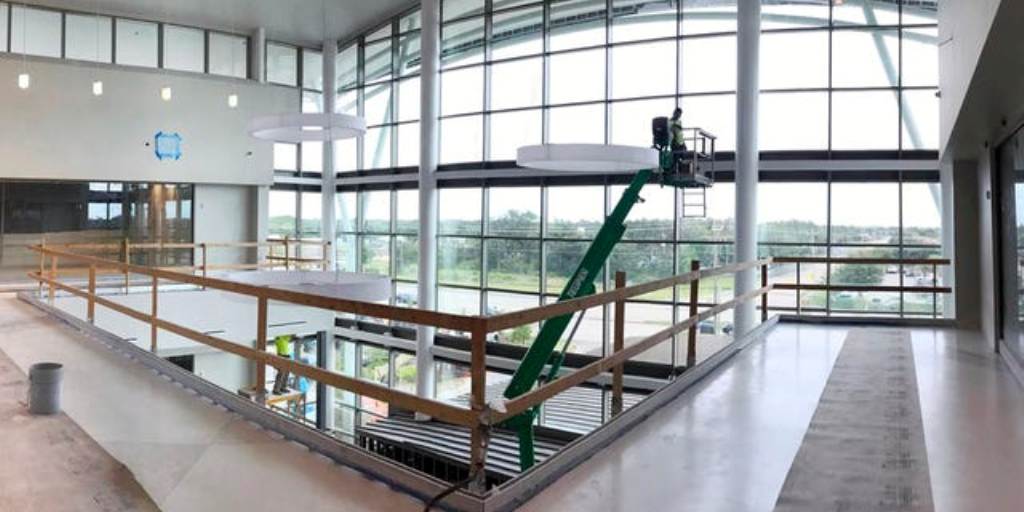 The tallest building in Lehigh Acres, a medical Taj Mahal that will cater to some of Southwest Florida's lowest-income residents, is nearing completion.
Family Health Centers of Southwest Florida, a three-story building that at 65-feet tall will eclipse in height the nearby Lehigh Regional Medical Center, is scheduled to be completed in November.
The non-profit organization will continue providing medical services to about 82,000 migrant worker, homeless and economically-challenged patients at 3415 Lee Blvd., in Lehigh Acres.
This is at the southeast corner of Lee Boulevard and Sara Avenue North. The new headquarters will be across the street from the organization's current Lehigh facilities, which will be vacated and up for lease, likely to other medical tenants.
Although the new building broke ground by contractor Owen Ames Kimball in May 2018, the project has been about six years in the making.
"Every three years, we do a community needs assessment to determine what our needs are," said Angela Kearley, the director of financial operations since 2009.
That means the genesis of this 62,546-square-foot structure occurred in 2014. Parker Mudgett and Smith Architects of Fort Myers designed the building, and David Douglas Associates Inc., served as the civil engineer.
"It all started with looking for land," Kearley said.
Family Health Centers purchased the plot for $1.35 million in March 2018. Administrators are not yet ready to reveal the construction costs.
"We go over there once a week," Kearley said. "We've seen it from dirt to near completion."
The front will feature an atrium-like grand entrance with a wall of windows and circular light fixtures.
The size of the building and the need for more services will allow for the employees to grow in number from 35 to 65. The organization has about 500 employees total at 16 other locations.
"We want our patients to feel like they're just as important as anybody else," said Becky Anderson, finance assistant, of the building's grand nature. "This part of our population is often overlooked. They deserve quality of providers as well as quality of surroundings. The scale of it is very grand. At the same time, it's very personable.

"We're very excited."
Lehigh recently eclipsed 100,000 residents. That means more restaurant chains and services are on the way, said Jim Boback, owner of Boback Commercial Group. He has closed on land in recent months that will become a grocery store, a pediatric practice and a day care center.
"Lehigh is booming," Boback said. "People just don't realize it. In the past three to four to five years, they passed the 100,000 threshold in population. That's why you're starting to see a lot of this stuff pop up.

"Lehigh is not some sleepy retirement community. The average age out there is 32 to 42 with 2.4 kids, averaging $50,000 in income. It's a complete metamorphosis from what it was. A lot of people have the same misconception of whatever Lehigh used to be. It's a totally different dynamic than 10 years ago. You won't find an Olive Garden. You won't find a Chili's. But at some point, those are coming."
To get a grip on growth in Lehigh requires a glimpse at new single-family home permits. There were 68 in Lehigh between 2009 and 2013. There were 138 in August of 2018, said Nelson Taylor, a market research analyst for LSI Companies.
"Just in one month," Taylor said. "All of that housing growth, you're seeing a lot of new retail players out there. The home prices are going up, and that's bringing in a higher level, medium income. Retailers look at traffic counts, median income, and they'll look at surrounding rooftops. Lehigh is starting to hit all three of those."
Source: News-Press