Tampa General Breaks Ground On New Rehab Facility – A Key Component For Envisioned Medical District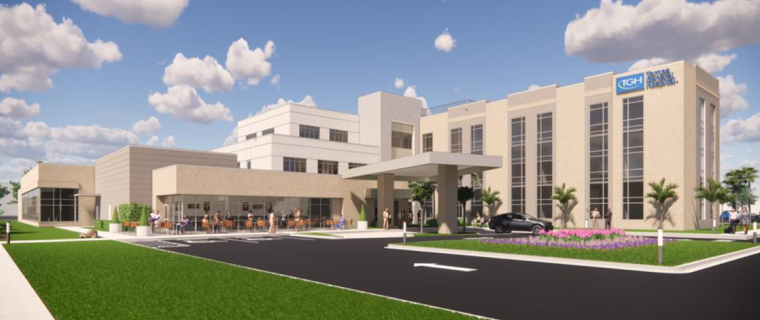 Tampa General Hospital and Kindred Healthcare, LLC broke ground on a freestanding 59-bed inpatient rehabilitation hospital in the medical district of downtown Tampa. Announced as a joint venture in May 2020, the new facility will help meet the growing needs of Tampa Bay, the region and the state for rehabilitation recovery and care.
"Rehabilitation care plays an important role in the recovery of patients who have experienced debilitating illnesses and injuries," stated John Couris, president and CEO of Tampa General Hospital. "As part of our vision to be the safest and most innovative academic health system in America, we're proud to partner with Kindred to employ the latest innovation and technology to enhance access to these crucial services."
The new rehabilitation hospital is located on Kennedy Boulevard between Oregon Avenue and Willow Avenue and brings downtown Tampa one step further in the development of a fully realized medical district that will attract the best scientists and physicians to the region and transform the area into a center for healthcare innovation. The rehabilitation hospital is projected to be approximately 80,000 square feet and cost $35 million. Kindred will manage the day-to-day operations of the new hospital, which is projected to employ more than 140 caregivers and staff. Tampa General Hospital will provide medical support services, such as imaging, lab and surgical procedures. It is expected to officially open in February 2022.
Tampa General Hospital currently operates an inpatient rehab facility that is accredited by the Commission on Accreditation of Rehabilitation Facilities (CARF). Clinical teams will ultimately move to the new site, while Tampa General Hospital will continue to provide pediatric and outpatient rehabilitation at alternate sites.
A small, physically distant groundbreaking ceremony was held on January 18, 2021. In attendance were John Couris, president and CEO, Tampa General, Russ Bailey, president, Kindred Rehabilitation Services, and Cleve Haralson, vice president of capital development for Kindred Healthcare.
"Breaking ground on Kindred's first freestanding inpatient rehabilitation hospital in Florida is a great way to start 2021," said Russ Bailey, president, Kindred Rehabilitation Services. "Working together with Tampa General, we can bring a dedicated intensive rehabilitative facility to the Tampa Bay region that will help patients achieve their best possible recovery."
The new inpatient rehabilitation hospital will care for adults recovering from conditions such as stroke, neurological disease, injury to the brain or spinal cord and other debilitating illnesses or injuries. The new facility will offer state-of-the-art technology and feature all private rooms. It will also have a secured brain injury unit with private dining and a therapy gym.
"The COVID-19 pandemic has underscored the need for inpatient rehabilitation services," noted Couris. "Some patients need specialized help with ventilator recovery and rebuilding their strength and function. While we hope that the pandemic is not a major consideration at the time of opening the new rehabilitation hospital, it's good for our region to know that we're here to help when needed."
Health Affairs Journal projects that 700,000 survivors of COVID-19-related hospitalization will require inpatient rehabilitative care. "We have the resources to help patients reduce disability and create the best opportunity for patients to achieve a full recovery," said Bailey. "Tampa General's long experience as a CARF-accredited rehabilitation hospital is an added benefit and will help establish our new facility as a strong resource for the community."
Transitional living apartments designed to simulate a residential apartment will enable patients to heal in a personalized and private environment as they prepare to return to independent living. Patients will also experience specially planned rooms to treat dialysis patients and programs dedicated to neurological conditions, stroke, brain injury and amputation recovery.
Source:  TGH
https://floridamedspace.com/wp-content/uploads/2021/01/tampa-general-hospital-rehab-facility.png
320
760
admin
/wp-content/uploads/2020/08/florida-medical-space-logo.png
admin
2021-01-26 00:31:40
2021-01-26 00:31:40
Tampa General Breaks Ground On New Rehab Facility – A Key Component For Envisioned Medical District