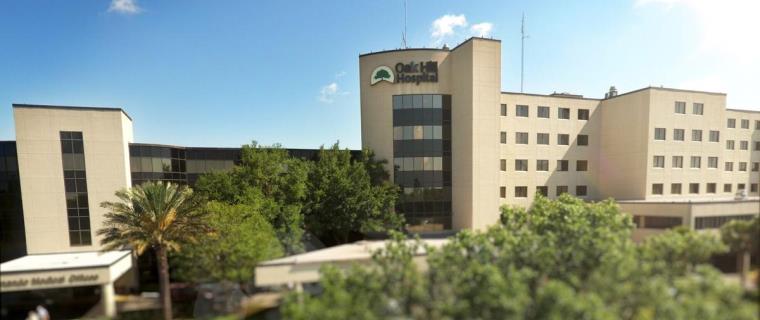 Every morning Mickey Smith makes the 40-minute commute from his home in Crystal River to Oak Hill Hospital in Hernando County.
But the CEO of Oak Hill Hospital is not alone. About 4,500 Citrus County residents last year chose the facility for their medical care. More than 100 people from Citrus County also work at the accredited hospital.
In a business where most hospital heads stay only a few years before moving on Smith is an anomaly. He has been the hospital head for 18 years, overseeing the hospital's expansion from 180 beds in 2006 into a medical campus with 350 beds on its 140 acres. The hospital opened in 1984 with 96 beds.
He wants the hospital to be south Citrus County's medical destination when people need health care or have an emergency.
The hospital, owned by Hospital Corporation of America, is a teaching hospital and enjoys several accreditations, including from The Joint Commission, Commission on Cancer, American College of Radiology, and College of American Pathologists.
It's Hernando County's only open-heart surgery hospital, offers orthopedic and spine surgery, pediatric emergency care, labor, delivery, NICU care, and women's imagining.
What else does Oak Hill Hospital have going for it, according to Smith?
"It's the same as real estate: location, location, location," Smith said. "People are fleeing New York. People are fleeing Tampa to come here. With the Suncoast it's easy."
Oak Hill Hospital is also close enough to larger hospitals that can provide more specialized care if it's needed, he said.
"The other thing that's happened is that technology has leveled the playing field," he said, allowing small and medium sized hospitals to offer services once only performed at larger, metropolitan facilities.
"And what's really been transformative for us is the teaching (and residency) program," Smith said, offering graduating medical students eight accredited programs.
The plan is to try and persuade young doctors to stay in Hernando after they finish their residency programs, helping to shore up a doctor shortage that's also being seen across Florida and the nation.
To accomplish that the hospital's training program is putting an emphasis on Florida medical students, said Dr. Jason Grabert, the program's assistant director.
But to pay the bills, Smith said it all comes down to dollars and cents and Smith admits he is a numbers guy.
Outside the door of his office and in the administrative lobby, Smith has three monitors that track patients in the ER, admissions, and operating rooms.
In 2019, the hospital had more than 19,300 admissions and 65,000 ER visits. The hospital and affiliated buildings on campus has 1,900 employees.
Many of the hospital's Citrus County patients come to the Oak Hill because of location, Smith said, citing Oak Hill as the closest hospital from Homosassa south.
But it's also the quality of care, he said.
The hospital has about one half the turnover of its nurses than the national average, Smith said. It was the first in the United States to require all of its eligible emergency room nurses to be board certified.
Setting the ER standard higher costs the hospital more in salaries, but the ER can guarantee its patients a higher level of care, Smith said.
In a health care field where most CEOs stay a few years before moving on, Smith has headed Oak Hill Hospital 18 years. He said he wants to stay on and oversee the many improvements the hospital has undertaken.
The hospital last week had about 93% occupancy. Last year it added about 70 beds to keep up with demand.
The hospital also has its own in-house pharmacy for patients who are leaving the hospital with employees who will bring them their medications to their room. The pharmacy will also fill their prescriptions after they leave and will make free home deliveries.
Smith said that because Oak Hill is a teaching hospital he has to be committed to buying state-of-the-art equipment. He said he also wants to keep the hospital a place where young doctors want to work.
One of those doctors is Dr. Tiffany Simon who graduated from Oak Hill's residency program.
"I always wanted to be a rural, small town doctor," she told the Chronicle. "The hospital takes care of us and there's no place I'd rather be."
The hospital has the latest technology and matched the services in Atlanta where she trained, "so why not stay," she said while working in the hospital's ER.
Dr. Bradley Stellflug said the hospital's reputation is drawing patients, especially from outside the county.
"Ask anybody. Patients are asking to come here," he said.
Dr. Hamoui Nabeel is an interventionist in radiology and urology.
"There have been continuous upgrades here," he said of Oak Hill. "The nursing care is unbelievable. … The ER rivals much larger (hospitals)."
"It's a privilege to come here and actually practice here," he said.
Dr. Xavier Jenkins has performed more than 1,000 robotic assisted surgeries. In the 2000s he practiced in Minnesota and Missouri but visited friends and family in Hernando County.
Asked why he chose Oak Hill, he said he wanted to work in a hospital that offered his specialties, but most important his values.
As for Smith, the CEO said his own job won't be done until Oak Hill becomes "the place to work, bring families, and bring doctors."
Meanwhile, he expects the number of patients, and employees, from Citrus County to keep growing.
Source:  Citrus County Chronicle
https://floridamedspace.com/wp-content/uploads/2021/02/oak-hill-hospital.jpg
320
760
admin
/wp-content/uploads/2020/08/florida-medical-space-logo.png
admin
2021-02-17 12:28:06
2021-02-18 02:28:37
Many In Citrus County Head To Oak Hill Hospital For Care