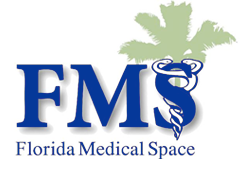 Florida's Healthcare Real Estate Experts.
Hospital Embarks On Historic $256M Expansion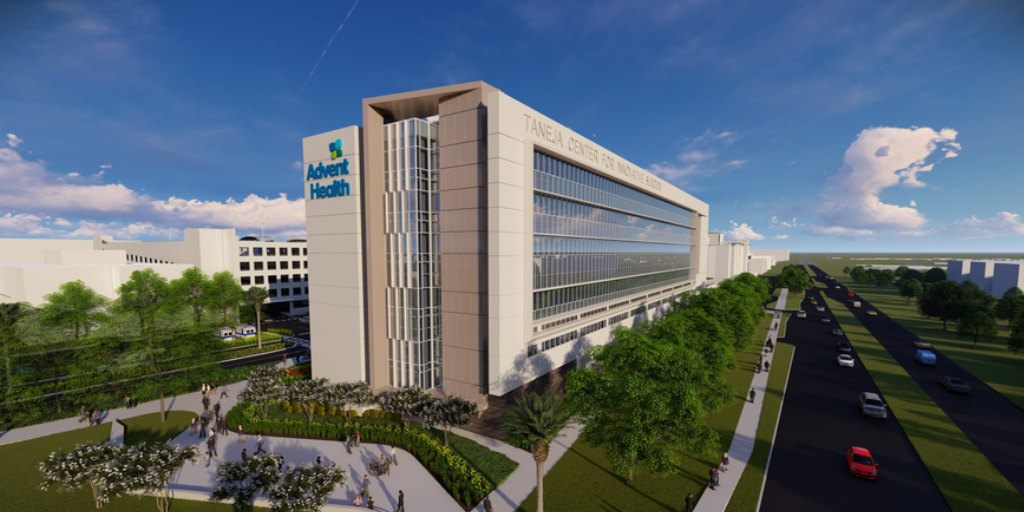 Florida Hospital Tampa, part of Adventist Health System, has broken ground on a six-story, 300,000-square-foot patient and surgical tower at the corner of Fletcher Avenue and Bruce B. Downs Boulevard in Tampa. The $256 million expansion project will be known as the Taneja Center for Innovative Surgery and is slated to open in 2021. According to a press release, it will feature 24 new operating rooms, a new hospital entrance and more than 100 private dedicated surgical care beds. It will create an estimated 117 clinical jobs in its first year of operation, and 587 jobs by the fifth year, the release states. "This is a state-of-the-art project that will provide specialty care in Tampa Bay that you can't find anywhere else in our area," states Brian Adams, president and CEO of Florida Hospital Tampa, in the release. "Our goal is to design a surgical tower that isn't just relevant today, but will be relevant 30 years from now, combining surgical innovation and the most advanced robotic technologies with the nation's best physicians." The family of Jugal and Manju Taneja provided a generous gift toward the expansion project — the largest donation ever to the hospital's west Florida division. "This is about more than growth and expansion," states Mike Schultz, president and CEO of Florida Hospital West Florida Division, in the release. "This is about connecting our community to the kind of expert health care that's needed and delivering it with Florida Hospital's unique brand of inspired, compassionate care."
Florida Hospital Rebrand Drives Daytona Plans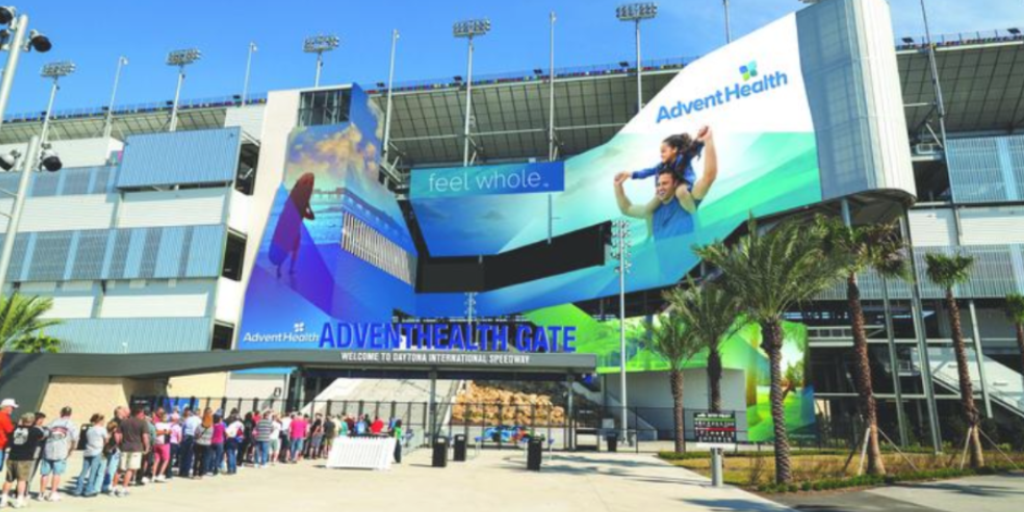 As part of a rebranding next year, major Daytona International Speedway sponsor Florida Hospital is buying naming rights to the track's Speedweeks period and redesigning its "injector" entrance. The move will include the company soon to be known as AdventHealth buying the presented-by asset to the 2019 season-opening Daytona Speedweeks, which includes the Daytona 500. The deal also includes a multimillion-dollar effort to transform Florida Hospital's entrance to fit the new AdventHealth brand, and it could be a precursor for additional spending in NASCAR by the Adventist Health System parent company. Florida Hospital is changing its name to AdventHealth at the turn of the calendar year, and the rebranding effort at Daytona will be completed by the 61st running of the 500 on Feb. 17. "We wanted to make sure folks knew we were changing as an organization — and with our current existing partnership already in place, we decided we would enhance that to make it more prominent as we continue to grow," said David Ottati, president and CEO of Adventist Health System's Central Florida Division-North Region. The company-wide rebrand involves nearly 50 hospitals across nine states. Adventist works with Aquarius Sports & Entertainment on its motorsports marketing. Adventist Health System was one of five companies to buy one of the track's branded injector entrances designed as part of Daytona's $400 million renovation completed in early 2016. Daytona parent company International Speedway Corp. (Nasdaq: ISCA) sold the branded entrances for $2 million to $2.5 million annually over 10- to 15-year terms. Ottati said the company will spend $1 million to $2 million to rebrand its presence at the track, which includes its 20,000-square-foot entrance. The presented-by asset that AdventHealth is buying from the track is for multiple years. The price was not disclosed. As its rebrand begins rolling out, AdventHealth is open to expanding its presence not only with ISC but also with rival track operator Speedway Motorsports Inc. The company already has a team sponsorship with Chip Ganassi Racing. "The really exciting opportunity for us with this national rebrand is in almost every one of our significant AdventHealth markets, there is a racetrack — either ISC or SMI," said Anna Donaldson, AdventHealth's director of sports marketing. "There's definitely a possibility of how we grow our relationships within motorsports, whether with ISC, SMI or Chip Ganassi Racing; we're definitely exploring those opportunities." Source: OBJ
Florida Hospital Scores Naming Rights For New Tampa Bay Buccaneers Training Center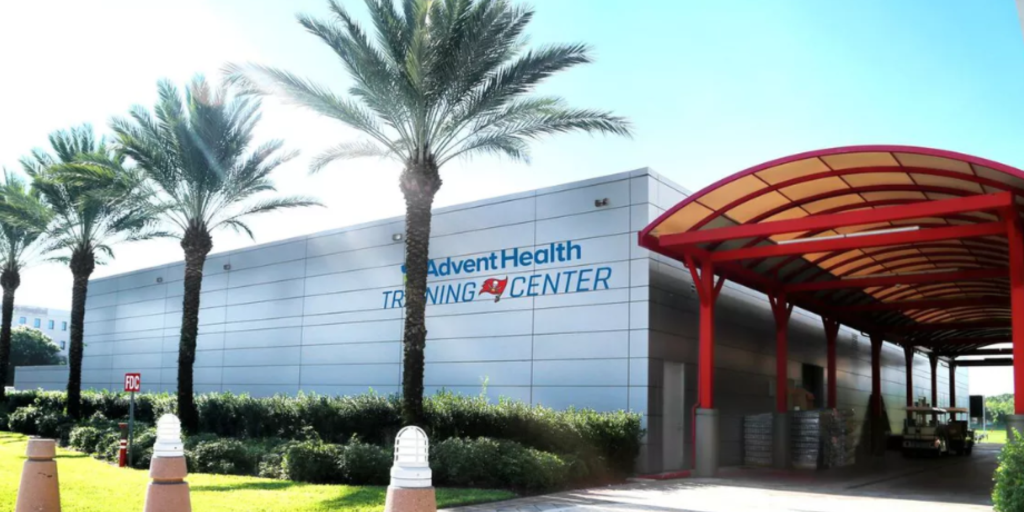 Florida Hospital's parent company has made a major move to its marketing game plan and has secured naming rights for the Tampa Bay Buccaneers' new indoor training facility and the team's headquarters. The new training center will now be called the AdventHealth Training Center, said Tampa Bay Buccaneers Owner and Co-Chairman Bryan Glazer during a press conference at the Buccaneers headquarters on Monday. The team has been growing the partnership with the parent company over the past six years, he said. Financial terms of the deal were not disclosed. The naming rights should boost Florida Hospital's parent company Adventist Health System in its effort to rebrand itself AdventHealth. That officially starts Jan. 2, 2019. AdventHealth will also have its name on the corporate headquarters at One Buc Place. "Just as our company is changing, it's an opportunity for a change in our relationship with the Buccaneers. It's an introduction to a different [type of] health care," said Mike Schultz, senior executive vice president at AdventHealth. The $20 million Buccaneers indoor practice space allows the team to practice through the harsh heat and rain of area summers. Indoor practice facilities are among the hottest new amenities for NFL teams. The 112,660-square-foot indoor facility is now in its second season of use. The new indoor facility comes available just as Raymond James Stadium has wrapped up the fourth phase of its $150 million improvement project and will be the venue to host the upcoming Super Bowl LV in 2021.
Adventist Health System Sets Sites On Expansion With 103-Acre Purchase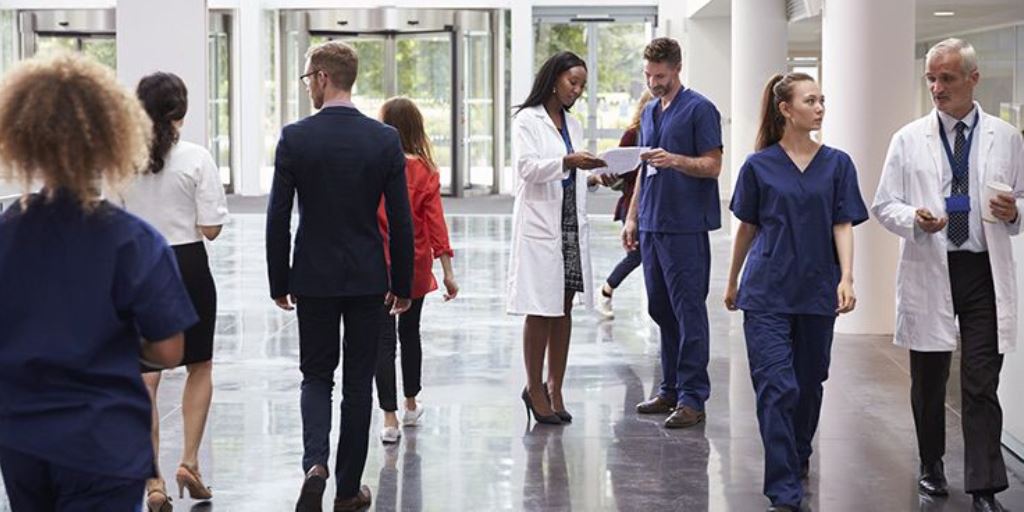 Adventist Health System has purchased 103 acres, strategically located on I-4, just west of the Florida Polytechnic University, the State's STEM oriented and newest university, located in Lakeland, FL. The land Seller was Brown Development Group of Miami.
"This marks Adventist's first foray into Polk County, and they have selected a site with high visibility, fronting on I-4, mid-way between Tampa and Orlando. This area is already attracting attention with the growing Florida Polytechnic and nearby 400-acre FDOT self-driving car test tracts. These all will be important economic engines for east Polk" noted Lisa Parks Abberger of Hauger-Bunch, Inc., who represented the seller in the transaction.
Adventist Health System is a faith-based health care organization headquartered in Altamonte Springs, Florida. The national health care provider operates 45 hospitals in 11 states, with more than 8,200 licensed beds and more than 80,000 employees, as noted on AdventistHealthSystem.com, serving more than 5 million patients annually. Services include the full continuum of integrated care, including urgent care centers, home health and hospice agencies, skilled nursing facilities, hospitals, as well as acute long term care.
Within Florida, Adventist Health System is well known for their operations under the Florida Hospital umbrella, operating 25 hospitals in Florida, 18 in the Orlando/East Coast markets, and 7 in the Tampa Bay/West Coast markets. Currently, there are 16 skilled nursing facilities under their corporate structure, 10 in the Orlando/East Coast markets and 6 in the Tampa Bay/West Coast area. Adventist Health System also operates 9 home health and hospice care centers in Florida.
Per Florida Hospital executives' presentations to City of Lakeland officials, the health care leader could build a clinic initially, and then expand to a 200-bed hospital, if needed.
Development Services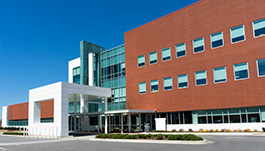 Florida Medical Space
Florida's Health Care Real Estate Leader.
Your trusted real estate advisor.
Florida Medical Space is Florida's first and only statewide, full service medical real estate company. We are a highly focused and specialized team of investment, marketing, leasing and management professionals at your full disposal so you can focus on what matters most. We've assembled the brightest and most qualified team of healthcare real estate professionals to provide unparalleled service to the physicians, healthcare executives and investors who serve the healthcare needs of residents of Florida. We are headquartered in South Florida and are also active in Central Florida, Orlando and Jacksonville. Physicians, hospital administrators, healthcare executives, landlords and investors can depend on FMS for expert guidance in all real estate matters. Call one of our trusted advisors today for a complementary analysis of your situation.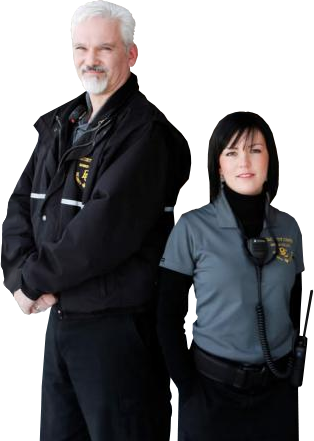 Florida Medical Space, Inc., Copyright 2014. FMS is not responsible for any errors or misinformation contained within this website.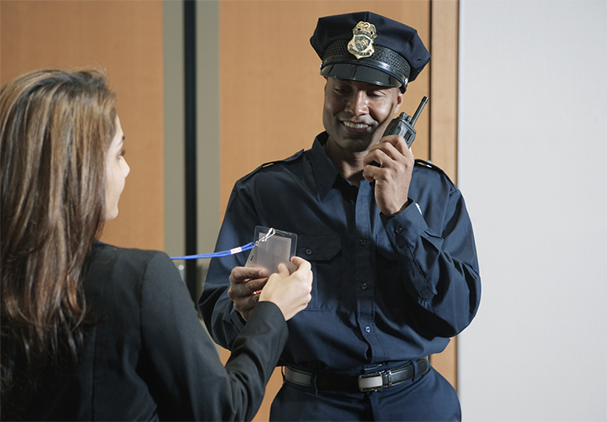 Call Us Today

Miami-Dade:
Tenant & Buyers
|
Broward:
Leasing & Sales