Polk Commission Approves Funds Toward New Lakeland Facility For Central Florida Health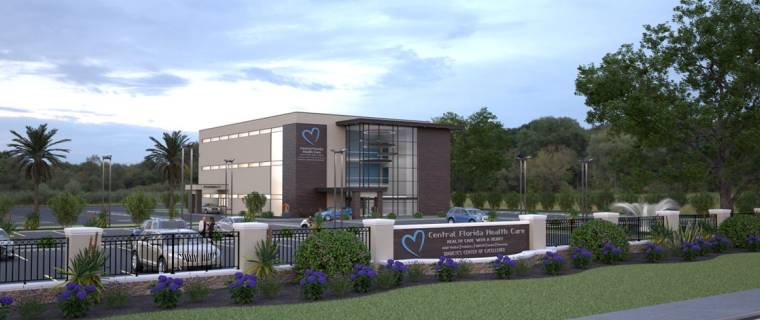 The capital campaign for the first of two new Central Florida Health Care medical facilities got a boost Tuesday as the Polk County Commission approved $799,075 for the nonprofit organization from funds provided by the American Rescue Plan Act.
The Winter Haven-based CFHC is planning a Lakeland Health Center at 1129 Missouri Ave. near North Florida Avenue just west of Bryant Stadium. It's at the site of its current Lakeland Primary Care facility, and the organization has launched a two-year capital campaign to raise funds for the $7 million project, according to its CEO Ann Claussen.
The planned three-story 25,000-square-foot facility, which could break ground within three months adjacent to the existing building, will eventually bring Lakeland Primary Care, Lakeland Pediatrics and Lakeland Hills Dental under one roof.
The existing Missouri Avenue clinic will stay open until all the other entities are moved in. The new facility is three to four months away from gaining a building permit from the city. Once the new one is built, the old building would be demolished for parking.
Construction is expected to be completed about one year from the groundbreaking.
Health care services will include adult and pediatric medical, dental, optometry, OB-GYN, behavioral health, Diabetes Center of Excellence, teaching kitchen and a drive-thru pharmacy. The organization also plans to expand behavioral-health services at the Lakeland location.
The combined square footage of the three facilities once they occupy the new Lakeland center will still add an additional 7,000 square feet for expanded patient care, said Sherrie Pratt, media and communications specialist at CFHC.
In 2022, the three clinics combined saw 16,680 patients, for a total of 49,921 visits, she said. This year, the facilities anticipate 17,100 patients and 53,200 visits.
The new Lakeland facility would be able to add 4,800 more patients and 15,000 visits once completed.
The second facility, which is also part of the capital campaign, will be in Winter Haven along First Street, also known as "hospital row." It will be a much larger building because it will hold the CFHC administration offices as well as providing an expansion of patient care, including specialty care. The 120 administrators are currently working at multiple locations around Winter Haven.
The three-story project is estimated to cost between $18 million and $22 million to develop, Claussen said. This is because of the centralizing of administration and the addition of specialty care. Like Lakeland, a pharmacy drive-thru is also planned for Winter Haven.
Signed into law on March 11, 2021, the American Rescue Plan Act provided $350 billion in funding to assist state and local governments with the COVID-19 emergency. The act authorized the county to spend ARP funds to offset negative economic impacts of the pandemic, including assisting small businesses and nonprofits.
Claussen said they had responded to a request for proposals and they received $799,075 to supplement the capital campaign. Still, she wants the Lakeland facility first.
"It's been a long time coming, and that location sees a lot of patients and it's very tight in that space they are in right now," she said.
The capital campaign began six months ago with the hope of securing donations within a two-year timeframe for the two projects and avoiding having to take out a loan for $6 million to pay for the Lakeland building.
Last year, the medical staff at CFHC saw a total of 70,000 patients for 220,000 visits. Patients include uninsured, underinsured and Medicaid and Medicare recipients as well as the region's insured populations.
Source:  The Ledger
https://floridamedspace.com/wp-content/uploads/2023/05/Central-Florida-Health-Care-Rendering-760x320-1.png
320
760
admin
/wp-content/uploads/2020/08/florida-medical-space-logo.png
admin
2023-05-29 19:24:24
2023-05-29 19:24:24
Polk Commission Approves Funds Toward New Lakeland Facility For Central Florida Health