Moffitt Cancer Center To Open $400 Million Inpatient Surgical Hospital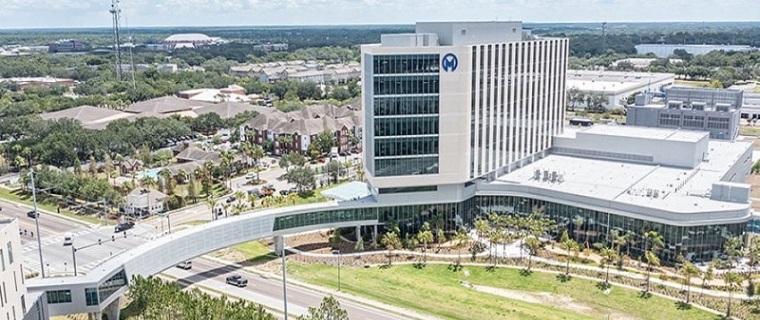 Moffitt Cancer Center, one of 54 National Cancer Institute-designated comprehensive cancer centers, is opening the doors to its $400 million inpatient surgical hospital in Tampa, Moffitt McKinley, which it expects will accommodate a 63% increase in patient volume and a 33% rise in cancer surgeries over the next 10 years.
Construction began in 2020 with design plans entailing a hospital that could treat all types of cancer and provide surgery for solid tumors. The design was based on feedback from more than 170 stakeholders, including physicians, nurses, lab personnel, pharmacy staff, hospital leaders, administrators, patients, and families.
The 10-story facility is 498,000 square feet and is made up of 19 operating suites, 128 inpatient rooms, and 72 perioperative rooms. It also has an intraoperative MR suite, a diagnostic CT scanner, and two nuclear medicine cameras. The hospital will start with 80 available inpatient beds but can expand to 400 in the future.
"We are significantly increasing our capacity to help more patients and save so many lives here. We're expanding all over so we can bring therapies closer to our patients and perform life-saving research that will give them even better hope for tomorrow," said Moffitt president and CEO Dr. Patrick Hwu in a statement.
The new MR scanner provides doctors with real-time views of the patient on the operating table and does not require the patient to be moved to another room for scanning, according to WUSF Public Media.
"Everyone clears the room and an MR scanner comes in from [another] room on a track and comes over and looks to see if we got the whole tumor. If not, the surgeon will take more of a margin," said Hwu.
Each patient room is 350 square feet and includes virtual whiteboards and flat-screen TVs, foldout sofas and recliners, and technology that identifies each team member that enters. The hospital also has a 26,000-square-foot central utility plant, a three-story parking garage, and a pedestrian bridge that connects it to the Richard M. Schulze Family Foundation Outpatient Center.
In addition to this project, Moffitt Cancer Center broke ground back in January on the construction of its 775-acre Pasco County campus, Speros Florida, which will include 140 buildings for clinics, research, housing, and more. It is expected to start seeing patients in 2025.
For Moffitt McKinley, it partnered with Barr & Barr Inc., Hammes Company, HDR, Horus Construction Services Inc., Walter P. Moore, and Ardurra Group Inc.
Source: HealthCareBusiness News
https://floridamedspace.com/wp-content/uploads/2023/08/mckinley-hospital-with-walkway-890-760x320-1.jpg
320
760
admin
/wp-content/uploads/2020/08/florida-medical-space-logo.png
admin
2023-08-14 18:41:29
2023-08-14 18:41:29
Moffitt Cancer Center To Open $400 Million Inpatient Surgical Hospital