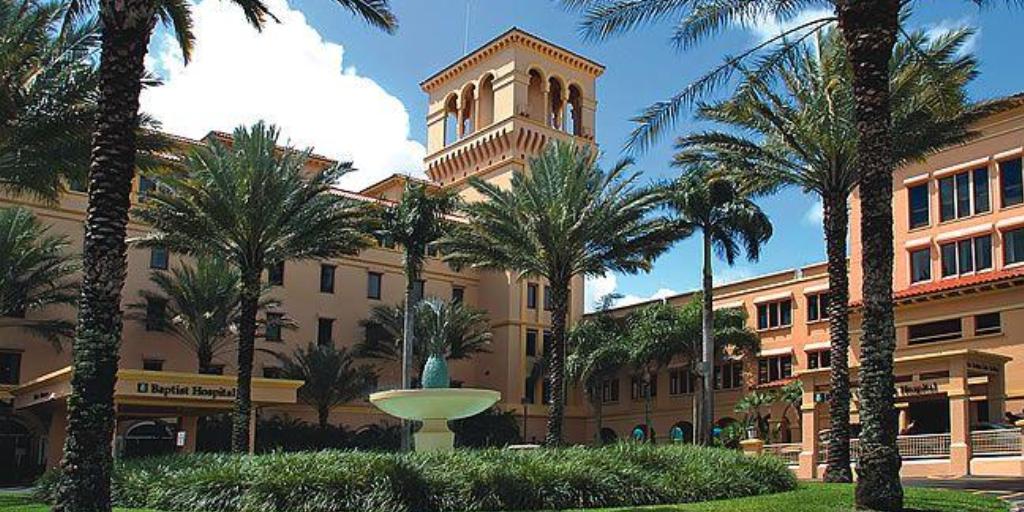 You'll hear phrases like "economies of scale" and "acquired efficiencies" and the obliquely vague "synergistic benefits." It might make sense when talking about two small banks or mid-sized manufacturers. When it comes to hospitals and healthcare, it's a different story. Take Baptist Hospital. It was founded in 1960 on a vast tract of land covered with rockland pine scrub and palmettos at the corner of Galloway Road and Kendall Drive. There was little in the area. Dadeland Mall wouldn't open as a small open-air shopping center for another two years. From Baptist's humble beginning, it has grown to a 728-bed hospital that serves about 32,000 in-patients and 72,000 emergency out-patients a year. The parent entity, Baptist Health South Florida has acquired hospitals as far north as Boynton Beach and as far south as Marathon in the Keys. Its website shows that it operates 106 separate medical units and controls the practices of 245 physicians. It has almost 20,000 employees and over 3,000 doctors have privileges. That's a lot of fingers in a lot of pies. As a not-for-profit hospital, Baptist is not supposed to be profit-driven. But a look at its most recent audited income statement shows that it had what it terms "Excess of Revenues Over Expenses" of almost $250 million, giving it a bigger "profit" than industrial aluminum giant Alcoa. And that's just in the past year. One advantage that Baptist and other non-profits have over other entities is that it pays income taxes only on the money made by a handful of its for-profit subsidiaries. And it pays no ad valorem taxes. Its Kendall campus has an assessed total value of almost $385 million, yet it pays no property taxes, even on the portions of the office towers it rents out to unaffiliated entities. And it pays nothing in property taxes on its other hospitals, either. Jackson Memorial, owned by the county's Public Health Trust, doesn't pay any taxes, either. Mount Sinai on Miami Beach is assessed by the Property Appraiser at $121 million, with $109 million of that exempt. Mercy Hospital, actually owned by HCA, is assessed and taxed at about $144 million of property value. Healthcare is not price driven. Someone involved in a head-on collision on S. Dixie Highway won't stop the ambulance until he can do a price comparison of the x-rays, MRIs, room rates, surgery, and pharmacy costs before telling the EMTs which hospital to go to. The website MissionToCare.org maintains a database with average costs for 50 typical hospital treatments at 197 hospitals throughout the state of Florida. The birth of a child at Baptist averages $21,876. Baptist is able to negotiate a rate of insurance company reimbursement of about 48 percent or $10,575. The cost of childbirth at Jackson Memorial is $16,793, but Jackson only collects $6,432 from insurance companies. The Baptist mother has to come up with $11,301 while the Jackson Memorial mom is expected to pay less: $10,550. Mount Sinai charges about what Baptist does for the birth, but only manages to collect about what JMH gets from the insurance companies. In fact, the findings of several studies show that having a single dominant non-profit hospital in a market actually can raise patient costs between 26 to 40 percent. How does Baptist do this? It's in a stronger bargaining position when it comes to negotiating its reimbursement rates with insurers because is controls a much larger percentage of the market than any other non-governmental hospital. A 40- or 100-bed hospital can't demand the same reimbursement rate that Baptist can. If medical care were a normal business whose customers shopped on price, then a hospital with Baptist's market clout might be expected to offer lower prices because of the volume of patients that it treats. It doesn't because it doesn't have to. Those who study the effect of hospital mergers have been looking for empirical evidence pointing in one direction or another, trying to answer the question of how consolidations affect patient prices. Researchers are finding that the goal of mergers, to generate cost savings and improve the quality of care, are falling short. The data points to the fact that almost all of the consolidations fail to achieve these goals. Instead, hospital mergers will continue as a way to capture greater and greater market share, expand financing and cash flow options. In all too many cases, mergers are a way to enhance the personal egos of the organizations' leaders than to enhance health outcomes or lower costs. The healthcare industry, from doctors to hospitals to pharmacies and drug makers consume about one-fifth of our Gross Domestic Product, the measure economists use to weigh the amount of goods and services produced each year. That's over $10,000 for every man, woman, and child in this country. Among the 11 most industrialized countries, the U.S. ranks last for health outcomes, equity, and quality. All that spending has yielded poor health outcomes and a worsening life expectancy when compared with these other countries according to a 2018 report from The Commonwealth Fund. That makes the advantages that non-profit hospitals all the more egregious. They can generate "profits" which are never taxed, avoid taxes in their properties, accumulate a war chest with which to buy out smaller competitors, and pay for it all by either keeping prices artificially high or even raising them. So what's the solution? Prohibiting hospital mergers? Encouraging them? Single payer health system? Going back to the old healthcare system with its gaping holes in the safety net? What we need is a willingness to put politics aside, and maybe even profits, and to look at our health system with unjaundiced eyes, rather than being blind cheerleaders for local institutions. If the primary goal is to give value to shareholders or to increase market share, then our present system is adequate. But if instead we want our healthcare system to improve the health of everyone at a reasonable cost, to improve the quality of life, and to increase longevity, we need to start over.
/wp-content/uploads/2020/08/florida-medical-space-logo.png
0
0
admin
/wp-content/uploads/2020/08/florida-medical-space-logo.png
admin
2018-11-26 03:18:03
2020-12-28 02:51:10
Are Non-Profit Hospital Mergers Making Things Better Or Worse?