University Of Florida Health Continues Expansion Into Northeast Florida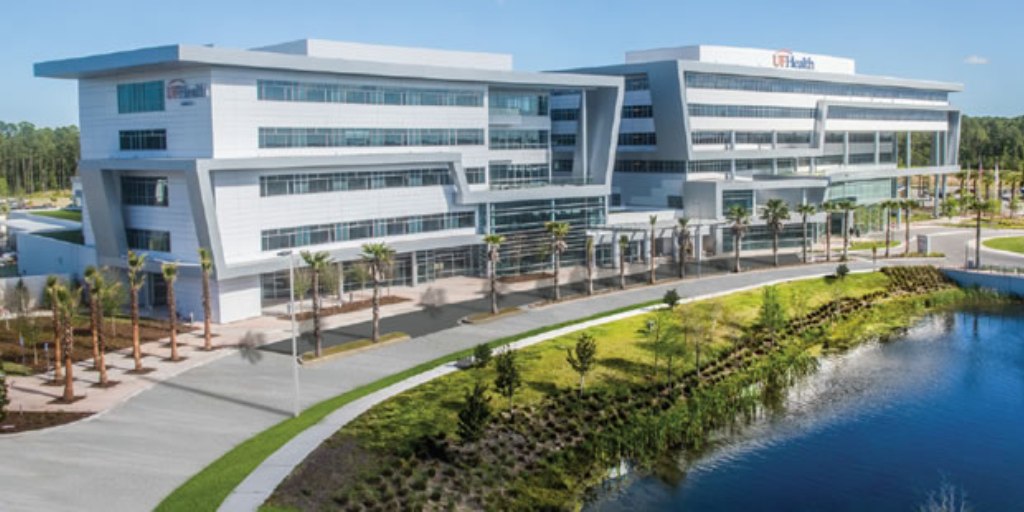 UF Health North nearly doubled the size of its campus with the opening of its new 168,000-square-foot bed tower last May. The latest addition to the North Jacksonville medical campus on Max Leggett Parkway, just a few miles from Jacksonville International Airport, is the 92-bed hospital with all-private patient rooms on four floors of the fivestory building.
The second floor has 20 beds for women's services, including 12 large delivery suites that serve as the location for labor, delivery, recovery and postpartum care — allowing mothers, babies and loved ones to stay in one room until discharge. A 24-bed intensive care unit is located on the third floor, and the fourth and fifth floors each have 24 medical and surgical suites.
The $85 million expansion, along with the existing medical office complex, provides residents in Northeast Florida and Southeast Georgia greater access to much-needed health care services.
"The success of UF Health North and the enthusiasm that the community has shown have exceeded even our highest expectations," said Leon L. Haley Jr., MD, MHSA, CPE, FACEP, chief executive officer of UF Health Jacksonville and dean of the UF College of Medicine – Jacksonville. "We knew that this rapidly growing area of Jacksonville needed a health care facility of its own, a place that offers the very best possible medical care, and we're incredibly proud of the way we have been accepted."
UF Health North opened its medical office building in February 2015. The six-story building includes a full-service 24/7 emergency room, outpatient surgery suites, imaging and other diagnostic services, a midwife-led birth center and four floors of physician offices. The operation has already earned a 5-star rating for patient satisfaction in emergency room and outpatient surgery care by Professional Research Consultants, a national health care research group.
"It's not just our physicians and other medical providers who make this campus special. It's the incredible attitude and compassion that everyone who works here brings every day, recognizing that patients are at the heart of everything we do," said Wayne Marshall, vice president of UF Health North. "This is an incredible resource. I couldn't be more excited for this community and for the future of our organization."
University of Florida Health Science Center's Jacksonville Campus
Just north of Downtown Jacksonville lies the regional campus of the University of Florida — the UF Health Science Center Jacksonville. Its facilities intertwined within UF Health Jacksonville's hospital and outpatient buildings, the Health Science Center includes the UF colleges of Medicine, Nursing and Pharmacy. Similar to its sibling campus in Gainesville, the Health Science Center in Jacksonville also includes a full UF library, dedicated clinical research facilities and a medical simulation laboratory.
About 450 faculty members and 16 clinical departments comprise the UF College of Medicine – Jacksonville. More than 370 UF medical residents and fellows train in Jacksonville in one of 44 medical specialty or subspecialty programs. Residencies and fellowships are the final stages of a physician's training before going into practice.
In addition, third- and fourth-year medical students from UF's main campus in Gainesville complete rotations at UF Health facilities in Jacksonville. Under the supervision of a physician, this allows medical students to have hands-on training in the fundamentals of patient care through multiple medical specialties, helping students select their future fields of practice.
RESEARCH
In addition to patient care and education, research is the third pillar of academic medicine. Physicians and residents at the UF Health Science Center Jacksonville have completed more than 550 clinical research studies, with community-based, patient-centered projects often a major focus. The campus received $21.5 million in research funding in 2016, with 72 percent of that money from federal sources like the National Institutes of Health. Over the past four years, total external funding has increased by 40 percent.
COLLEGE OF NURSING
The Jacksonville campus of the UF College of Nursing offers an accelerated Bachelor of Science in Nursing for people who already hold a bachelor's degree in another field. While the college has Jacksonville faculty, it also employs modern communications technology to offer interactive teleconferenced seminars from the Gainesville campus. Differentiating the college from other nursing schools in the area, UF nursing students regularly work alongside pharmacy students and medical residents in simulation scenarios aimed at optimizing patient outcomes by improving communication and interprofessional teamwork skills.
COLLEGE OF PHARMACY
The UF College of Pharmacy is ranked as the No. 1 pharmacy college in the state by U.S. News & World Report. The college features preeminent researchers who are leading major medical breakthroughs in areas such as drug discovery and development, pharmacometrics and systems pharmacology, and precision medicine.
In 2017, the college welcomed 271 students into the professional PharmD program. Of that group, 51 enrolled at the Jacksonville campus. Students enjoy small class sizes that allow them to build quality relationships with professors and classmates, as well as take advantage of leadership opportunities.
"We are fortunate to have renowned faculty physicians and research experts among the hundreds of dedicated personnel on our campus," said Leon L. Haley Jr., MD, MHSA, CPE, FACEP, dean of the UF College of Medicine – Jacksonville. "While providing exceptional patient care and forging new discovery, they help ensure our trainees and students receive all the support and resources they need and ultimately have an educational experience that is second to none."
/wp-content/uploads/2020/08/florida-medical-space-logo.png
0
0
admin
/wp-content/uploads/2020/08/florida-medical-space-logo.png
admin
2018-01-08 02:26:01
2018-01-08 02:26:01
University Of Florida Health Continues Expansion Into Northeast Florida