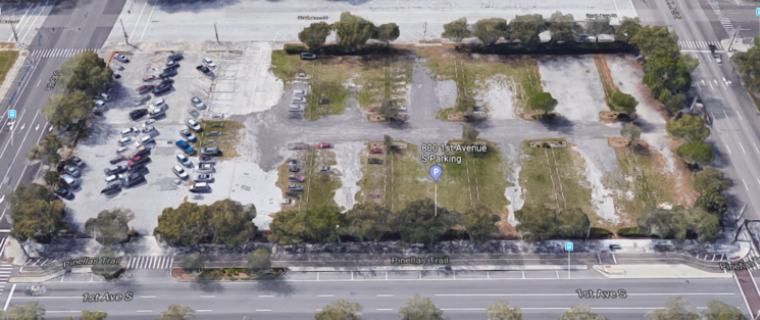 A prime lot in the heart of downtown could soon be redeveloped after the City of St. Petersburg received an unsolicited offer for the city-owned block at 800 2nd Avenue South.
Moffitt Cancer Center along with United Insurance Holdings Corp. and TPA Group submitted an offer to purchase the 4.59 acre site in order to develop a mixed-use project which would include a cancer care center, a future headquarters building for UPC, a residential building, and a public parking garage.
UPC Insurance had previously planned to purchase the site in 2018 to build a 150,000 square foot office building, a 500-space public parking garage, and a potential hotel. However, UPC scrapped the project in 2020 after reporting higher than expected losses as a result of a busy hurricane season and cited the need to reassess office space needs due to the COVID-19 pandemic.
A site plan of the proposed development includes a medical office component, residential tower, future UPC Insurance office building, 500-space public parking garage, and a potential hotel.
Like UPC's prior proposal, the group is offering $5 million for the land. The first phase of the project would include a 75,000 square foot outpatient building, where Moffitt hopes to provide services including: medical oncology, hematology oncology, radiation therapy, infusion, and more. The building would be three stories with 25,000 square foot floor plates and would front 1st Avenue South and Dr. MLK Jr. Street. The facility would be Moffitt's first expansion into Pinellas County.
Also included in the first phase of the project is a 30-story residential building on the west side of the block which would include 350 units, of which at least 10% would be workforce housing units, along with ground floor retail.
The buildings would surround a 500-space public parking garage which would be available to the public after hours and on the weekends.
On the southern portion of the lot, which currently houses a surface parking lot, would be a future development pad for a new UPC Insurance headquarters building. Preliminary plans indicate the building would be 99,000 square feet with 24,750 square foot floor plates. UPC Insurance's new office building would be included in a second phase of the project and would also include an expansion of the parking garage.
A site plan, which was submitted with the offer, includes a potential pad for a future hotel or "other downtown-centric" use.
The redevelopment of the lot calls for the vacation of 2nd Avenue South between 8th Street and Dr. MLK Jr. Street.
TPA Group is working with Alfonso Architects and George F. Young Civil Engineers to design the residential tower. Alfonso Architects was previously involved with UPC Insurances prior proposal to redevelop the lot. Barr & Barr will serve as the construction manager and design builder.
As a result of unsolicited offer, and pursuant to Florida Statutes, the city must invite additional alternative proposals from private developers, or anyone interested in the lease or purchase of the site. All proposals that are compatible with the Intown Redevelopment Area plan and delivered no later than 10am on September 15, 2021 will be considered. The city will decide whether to move forward once all proposals have been reviewed.
Source:  St. Pete Rising
https://floridamedspace.com/wp-content/uploads/2021/09/800-2nd-Avenue-South.png
320
760
admin
/wp-content/uploads/2020/08/florida-medical-space-logo.png
admin
2021-09-01 14:21:38
2021-09-02 01:21:52
Moffitt Cancer Center And UPC Insurance Proposed Mixed-Use Development In St. Petersburg