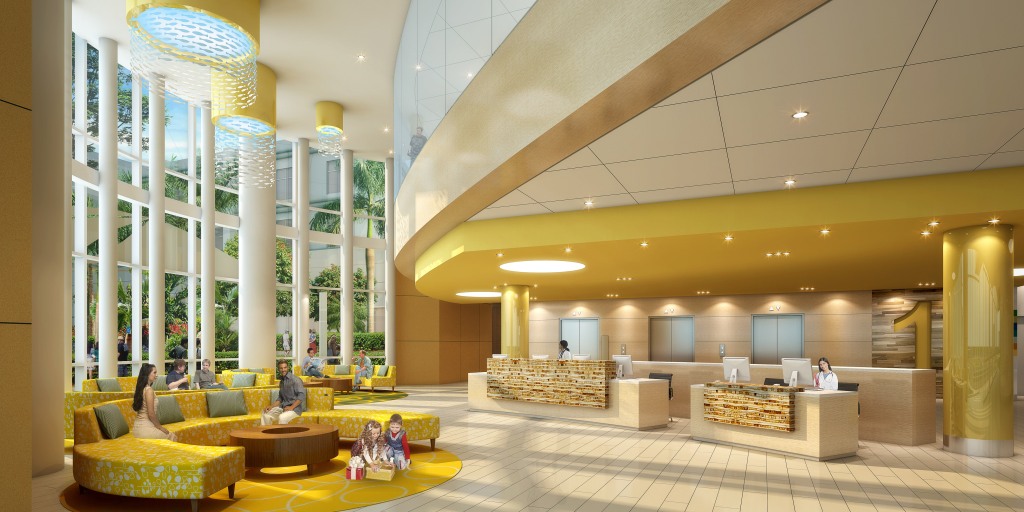 Golisano Children's Hospital of Southwest Florida is expanding services in Naples and has forged a transfer agreement with the NCH Healthcare System.
The agreement is for seriously ill children who are in the care of an NCH hospital yet need more specialized services available at the children's hospital located in south Fort Myers.
The goal is to make patient transfers run smoother and represents a fresh start between the two hospitals, said Armando Llechu, chief administrative officer of the 128-bed Golisano hospital.
"That was a really good first step to building a relationship," Llechu said.
NCH historically has had a transfer agreement to send sick children when necessary to Nicklaus Children's Hospital in Miami, formerly Miami Children's Hospital.
NCH's pediatrics services at North Naples hospital, including its pediatrics emergency department, have been expanded and upgraded to keep more children closer to home for care.
Golisano children's hospital achieved a new milestone in 2017 with the completion of its new seven-story, $200-million hospital adjacent to HealthPark Medical Center to better serve the five-county area of Southwest Florida. Previously, the children's hospital was inside HealthPark.
Llechu said he and Dr. Emad Salman, regional medical officer at Golisano, met with NCH's interim CEO Phil Dutcher, and the agreement was signed July 1.
"(We) said this is an opportunity to start a new chapter in the care of children in the region," Llechu said.
Dutcher served as interim CEO following the resignation in January of Dr. Allen Weiss until the Sept. 3 start of Paul Hiltz as the new president and CEO.
Dutcher said he reached out to many people and organizations, including Golisano, when he was interim CEO.
"I thought (the transfer agreement) was a good first step and the right thing to do," Dutcher said, who is back as NCH chief operations officer.
Salman said it is not unusual for general acute-care hospitals to have transfer agreements with more than one children's hospital. That's because not all provide a complete line up of services. For instance, Golisano does not have the demand yet to add pediatric heart transplant services.
Besides the transfer agreement with NCH, Golisano has been working on projects at its Golisano's Children's Health Center in Naples at Pine Ridge and Livingston roads.
Golisano's contract for Nicklaus Children's to provide three physicians for the urgent care center at the Naples complex has ended. Four physicians with Golisano are now rotating through the urgent care center that is open from 11 a.m. to 10 p.m.
Llechu, who came to Golisano in 2017 after serving as vice president of clinical operations at Nicklaus Children's, said there was no controversy with ending the arrangement.
"They realize having a remote location created some logistical challenges as well," he said.
When respiratory infections are common among children, the urgent care center can see 20 to 30 patients a day, Salman said.
"In summer, it's 10 to 15 a day," he said. "Two years ago when we had really bad flu season, we saw 40 to 50 patients a day."
In terms of how many Collier children who need to be hospitalized through the Naples urgent care center and Golisano physician practice in the same building, it's about two a month, Salman said.
"We try very hard not to bring them up here unless absolutely necessary," Llechu said.
The pediatric specialists who see children in the office practice are preparing for expansions, he said.
That includes build out of a 4,000-square-foot cancer center, the addition of two gastroenterologists for rotations, and the hiring of a second autism navigator to keep pace with increased diagnosis of autism, he said.
"We are seeing a lot more autism in the entire region," Llechu said.
The cancer center program is in design phase now; all together Golisano is investing about $1 million in the Naples complex, he said.
Source: Naples News
/wp-content/uploads/2020/08/florida-medical-space-logo.png
0
0
admin
/wp-content/uploads/2020/08/florida-medical-space-logo.png
admin
2019-09-30 12:22:01
2019-09-30 12:22:01
Golisano Children's Hospital Sees Growth At Its Naples Location