Health First Scales Back Merritt Island Wellness Village Concept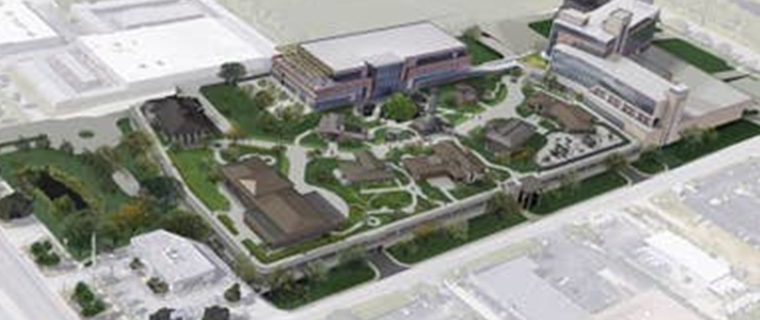 Health First is making some changes to its Wellness Village concept in Merritt Island.
The Rockledge-based nonprofit health system will remove some of the retail elements from its proposed project at 255 Borman Drive in Merritt Island. The project will still include a 120-bed hospital to replace its 150-bed Cape Canaveral Hospital in Cocoa Beach, a 90,000-square-foot medical office building, a parking structure and a central energy plan, but concepts like a restaurant, coffee shops, health information center and retail shops will no longer be included.
Health First Spokesman Lance Skelly told Orlando Business Journal that a combination in increasing labor, materials, energy, transportation and construction costs were part of the decision, along with the rising cost of doing business for its health care operations.
"Health care systems and hospitals cannot simply raise or adjust its prices in response to external pressures like — say— an airline, hotel, restaurant, theme park or grocery store can," Skelly said. "Because of these rapidly increasing costs, and with no slowdown in sight, we've decided to reevaluate the timing and elements of our Wellness Villages – including Merritt Island."
Construction on the hospital and other elements is expected to start in 2024. Wellness Village sites in Melbourne and Palm Bay have been paused, but only to be reevaluated and nothing has been taken off the table yet, Skelly said.
The changes come as Health First reported that in its fiscal 2022 it had an overall loss of $232.5 million, versus a net gain of $189.3 million in its fiscal 2021, according to its bond report for the year ended Sept. 30.
Founded in 1995, Health First has more than 9,000 employees and owns four hospitals, health insurance plans and a multispecialty physician group.
Meanwhile, health care construction activity is on the rise nationwide, as well as in Central Florida.
Raleigh, North Carolina-based FMI Corp. expects health care construction spending in the U.S. to go from $53 billion in 2022 to $62 billion in 2025. That is due to demand for services for an aging population and the addition of people to certain parts of the country.
Source:   OBJ
https://floridamedspace.com/wp-content/uploads/2023/04/Health-First-Merritt-Island-Wellness-Village-Plan-Concept-760x320-1.png
320
760
admin
/wp-content/uploads/2020/08/florida-medical-space-logo.png
admin
2023-04-17 16:50:46
2023-04-17 17:05:39
Health First Scales Back Merritt Island Wellness Village Concept