AdventHealth Kissimmee Plans $84M Patient Tower Expansion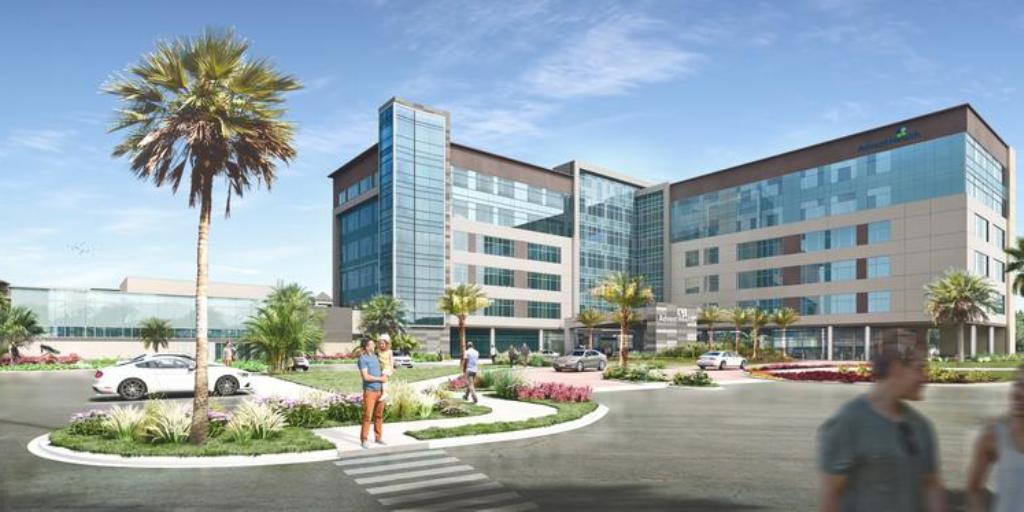 AdventHealth once again will add on to its Kissimmee campus to meet the area's growing health care needs.
The Altamonte Springs-based health care provider is set to build an $84 million, 123,000-square-foot expansion on top of its existing three-story patient tower. The three-story project, expected to be completed by fall 2021,will add 80 beds to AdventHealth Kissimmee and bring its total bed county to 240.
There will be 40 beds each on the fifth and sixth floors of the expansion, while the fourth floor will be held as shell space and can accommodate an additional 40 beds in the future, AdventHealth spokesman David Breen told Orlando Business Journal.
Expanding the hospital is needed, as it had an increased patient count in 2018 with more than 9,000 admissions and 67,000 emergency room visits. That's up from 8,274 and 62,919 respectively for those totals in 2017, according to OBJ research.
"This investment illustrates our commitment to the health of the Kissimmee community," AdventHealth Kissimmee CEO Sheila Rankin said in a prepared statement. "We are dedicated to providing whole-person care close to home for the growing population of Osceola County in the years to come."
Preliminary elevator shaft work for the project already has begun, with work on the future floors expected to begin this fall. Nashville, Tennessee-based ESa is the architect on the project, and Birmingham, Alabama-based Brasfield & Gorrie L.L.C. is the general contractor.
The project is expected to create 500 construction jobs and a yet-to-be determined amount of health care positions, according to the company.
AdventHealth Kissimmee opened an expanded emergency department in 2014, along with the original 80-bed patient tower in July 2015. The hospital is currently in progress on a $26 million, 27,000-square-foot addition of four surgical rooms with state-of-the-art lighting, robotic services, camera and recording capabilities, set to be completed in January 2020.
Meanwhile, here are some more AdventHealth hospitals being built out or growing inpatient facilities in Central Florida:
• AdventHealth Winter Garden: A $200 million, 300,000-square-foot, seven-story 100-bed patient tower at 2000 Fowler Grove Blvd. Project should be completed in 2021.
• AdventHealth Celebration: $88 million, five-story patient tower at 400 Celebration Place in Celebration. Project initially will have 76 beds and includes shell space for up to 84 more beds at buildout. Completion expected in early 2020.
• AdventHealth Fish Memorial: $100 million, four-story expansion at 1055 Saxon Blvd. in Volusia County's Orange City. Project will add 50 beds along with an expanded emergency department. Construction is expected to be completed by the end of 2020.
Founded in 1908, the $3.36 billion nonprofit AdventHealth system headed up by CEO Daryl Tol provided $45.3 million in uncompensated health care in 2016. In addition to the Kissimmee campus, its holdings include:
• 10 local hospitals in downtown Orlando, Altamonte Springs, Winter Park, east Orlando, Celebration, Winter Garden, Longwood and Apopka
• 24 Centra Care (urgent care) centers and 2 Kids Urgent Care centers
• 24 imaging and diagnostic centers
• 15 Lab Care locations
• 18 Sports Medicine & Rehab locations
• 2,500-plus doctors in 123 medical specialties
Source: OBJ