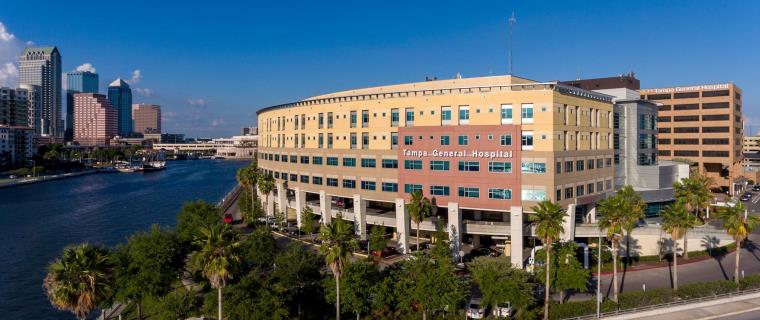 Tampa General Hospital, a pillar in the health care community and known as the area's only Level 1 trauma center, is in the midst of creating a medical district – one that will bring monumental investments and establish a true world-class clinical destination.
The goal of the Tampa Medical and Research District (TMD) is to create a hub in Tampa that would cultivate groundbreaking research and attract renowned clinicians and tech companies. At full buildout, at least 26 institutions will be considered as part of the TMD, including multiple universities, pharmacy schools, urgent care centers, and the existing USF Health Morsani College of Medicine in Water Street Tampa, a $3.5 billion, 50-acre real estate development.
"We fill important roles and we are blessed to be surrounded by a good health system in Tampa Bay. At TGH, this center would put us in a great position to operate on a larger scale and compete with other cities that have well-established medical districts," TGH President and CEO John Couris told the St. Pete Catalyst, sharing the first look of a preliminary economic study on the medical district. 
A look at some of the physical projects that are underway in the new medical district:
Hillsborough Community College Davis Islands Campus: An office building TGH recently acquired to house non-clinical team members.
A planned medical hotel to house patients traveling across the nation for care.
A planned eight-story, 2,000-space parking garage that will consolidate all off-site team member parking. It will be across from the Oxford Exchange.
A People Development Institute that represents a partnership between TGH and USF Muma College of Business. It will enhance career development and foster continuous growth for health professionals.
A proton therapy center, which would be the first of its kind on the West Coast of Florida. This free-standing facility would be developed in partnership with Florida Cancer Specialists and Research Institute, Proton Therapy Partners and Florida Urology Partners.
A 96-bed behavioral health facility (with room to build to 120 beds) that will also serve Baker Act cases.
TGH Innoventures/Embarc: Tampa General Hospital's innovation center and new venture capital fund dedicated to driving a culture of innovation across the organization through the support of early-stage startups and direct investments. TGH is the sole healthcare partner for Embarc Collective.
TGH inpatient rehab center, created through a joint venture with Kindred Healthcare, is a freestanding 80-bed rehabilitation facility that offers state-of-the-art technology and features all private rooms. The facility opened several months ago.
TGH's planned Global Emerging Diseases Institute will treat patients with infectious diseases. Construction is expected to start this November.
The health care organization retained The Washington Economics Group (WEG) to do the preliminary economic impact study on the medical district, analyzing the wave of impact from infrastructure to job creation and spending.
It showed that once completed, the total economic impact of Tampa Medical District is over $6.4 billion each year in the Tampa metro (MSA). Of this total, $3.5 billion (or 55%) is due to direct economic effects, with $2.9 billion attributable to indirect and induced economic effects.
In evaluating how it would impact the state, the total statewide impact would be nearly $8.3 billion of impact each year, which is more than $1.8 billion compared to the impact it would solely have in the Tampa metro.
The TMD will support over 41,500 local jobs and 57,900 jobs throughout the state.
Other findings from the study: 
The district will create $2.8 billion in household income each year.
The Gross Domestic Product impact in the Tampa metro would ne roughly $4 billion.
The federal, state and local fiscal revenues generated by the district would total roughly $800 million each year.
The study continued to highlight the great importance of  TGH's presence at the USF Health Morsani College of Medicine in Water Street Tampa, which created an even more proximal and collaborative relationship between the medical staff at TGH and USF and further clustered education with another notable area institution, the University of Tampa.
In addition to the new structures in the district, TGH is investing $500 million in new infrastructure and increased capacity at its main campus.
Source:  Catalyst
https://floridamedspace.com/wp-content/uploads/2022/02/TGH.jpg
320
760
admin
/wp-content/uploads/2020/08/florida-medical-space-logo.png
admin
2022-07-27 15:32:26
2022-07-27 15:32:26
Tampa General Hospital's Medical District To Have $8.3B Statewide Impact