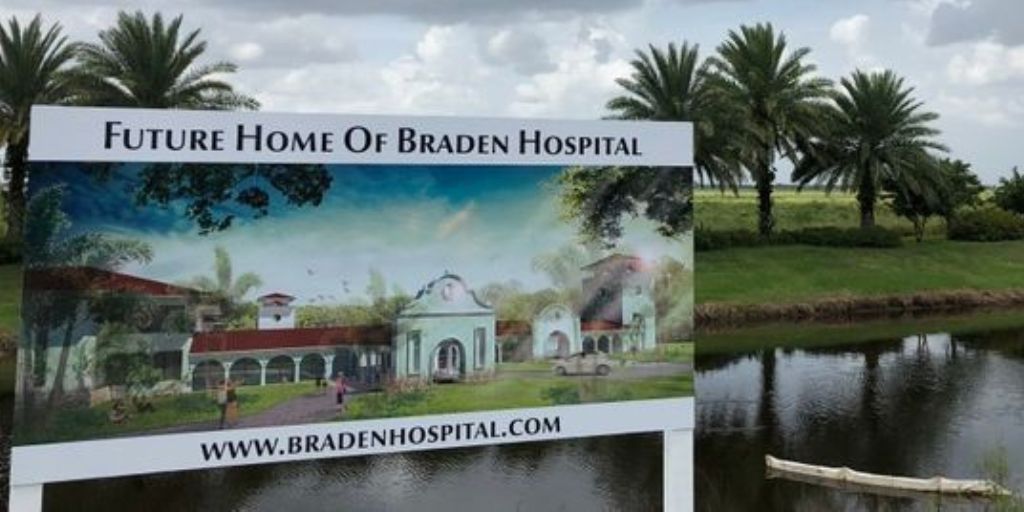 A 25-bed hospital is on the drawing board from the town's first doctor and clinic founder, Dr. Beau Braden.
"Initially it was just myself and a nurse who lived in town," Braden said. "We had a golf cart and we would suture people on their dining room table or my dining room table."
The hospital project hit a roadblock when the NCH Healthcare System challenged it. The black cloud lifted last month after the 716-bed NCH saw a change in leadership and decided to drop the fight.
The legal costs could have run $800,000 to $1 million to prove the need for the 25-bed hospital. But Braden never considered backing down.
Roughly 650 residents and business owners in Ave Maria, Immokalee and Golden Gate Estates sent letters of support for the rural hospital to state regulators last year. Many shared their stories of suffering without accessible health care.
"It was a very moving experience, and I was just trying to do them justice," Braden, 40, said in an interview last week.
He was no longer the stranger who moved to Ave Maria in 2014 with his wife, Maria, and their children. Word spread quickly about the young doctor.
His cellphone number got passed around. He responded to emergencies at homes. People showed up at his home at night with dislocated fingers, bleeding injuries and other ailments.
Braden didn't mind the house calls.
Hospital Site About 4 Miles From Ave Maria Town Center
A strong patient/physician relationship and technology will be key elements in the practice model of Braden Hospital, slated for a site about 4 miles from the Ave Maria town center and the clinic.
His in-laws had moved to Ave Maria in 2008 so Braden knew from the start there were no medical services nearby.
"I very much had the plan to start some sort of urgent care and grow that into a clinic and eventually become a hospital to provide services for the area," he said.
His new world was night and day from the faculty position he left at the University of Colorado Hospital in Denver, where he taught paramedics, medical students and residents, along with practicing medicine.
He attended medical school at Midwestern University in Arizona and has two master's degrees, in public health and regulatory science, from the University of Southern California.
His credentials include board certification in emergency medicine and addiction medicine.
Ave Maria University gave him a room on campus in fall 2014 to see students. He also made the hour's drive to Naples to work in the emergency room at NCH.
He signed a lease in early 2015 for space in the Ave Maria town center, where the five-exam room clinic is, at 5068 Annunciation Circle. The clinic is staffed by three physicians and a dozen support personnel. The clinic can see up to 45 patients a day.
Braden felt the time was right in early 2018 to pursue a hospital license.
He struck a verbal agreement with Barron Collier Companies to purchase land off Oil Well Road and Arthrex Commerce Drive. The site is near the manufacturing plant owned by Arthrex, the medical device company headquartered in North Naples.
More than 300 homes were sold in Ave Maria alone in 2017, and the number is climbing each year, according to data in Braden's certificate of need application to state hospital regulators.
By 2023 the projected population in Ave Maria is pegged at 14,000, nearly double the 7,600 population in 2017.
The Arthrex manufacturing plant brought more than 1,500 Arthrex employees to the region. The plant has an on-site medical clinic for its workforce, yet Arthrex looks forward to the hospital as its new neighbor, John Schmieding, senior vice president and general counsel of Arthrex, said in a statement.
"Arthrex is very supportive of Dr. Braden and his efforts to bring increased medical care to the people of eastern Collier County," Schmieding said.
Factoring in Immokalee, with 25,000 residents, and growth in other rural areas, the hospital's service area would be 78,000 people by 2023.
The projection included development of Rural Lands West, a proposed new town between Ave Maria and Naples that developer Collier Enterprises scaled back in size earlier this year.
All of eastern Collier has been in dire need of accessible medical care, said Blake Gable, chief executive officer of the Barron Collier Companies.
"The region is so underserved that when someone is getting up to do something it deserves broad community support," Gable said. "I don't know anybody in eastern Collier County who isn't in support. We are here to supply help in any way we can."
CLICK HERE TO READ THE REMAINDER OF THE STORY
/wp-content/uploads/2020/08/florida-medical-space-logo.png
0
0
admin
/wp-content/uploads/2020/08/florida-medical-space-logo.png
admin
2019-02-27 23:21:37
2019-02-27 23:21:37
Braden Hospital Founder Talks About The Past And Future Of Health Care In Eastern Collier