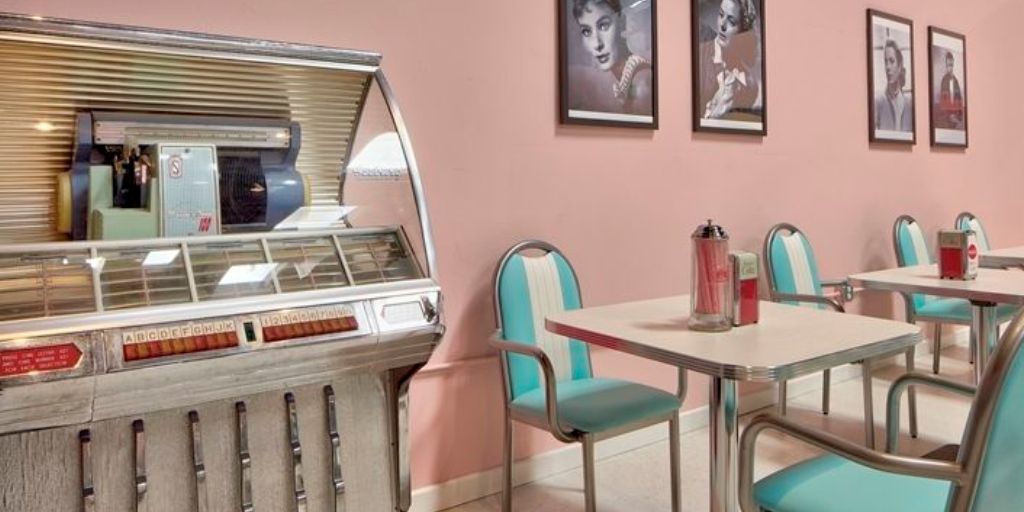 Senior Helpers, a major provider of in-home senior care services, has launched a nationwide franchise concept called Senior Helpers Town Square. The concept involves the adaptive reuse of older commercial properties being transformed into specialized treatment centers for dementia. The spaces evoke an earlier period in a dementia patient's life. Namely, midcentury America. Toward that end, the George G. Glenner Alzheimer's Family Centers created the prototype Town Square in Chula Vista, California, in partnership with the San Diego Opera Scenic Studio. The development, which opened this summer, occupies 9K SF of otherwise unremarkable warehouse space on the town's Main Street. Though named Town Square, the development is not a conventional mixed-use development. Rather, it is an indoor, simulated urban environment that employs reminiscence therapy — which uses tangible prompts from an individual's past to help elicit more long-term memories, reduce anxiety and improve mood and sleep quality in those with dementia. Each Senior Helpers Town Square location will feature a highly structured, midcentury "town" built around distinctive vignettes that resemble the time period when most participants (now in their 70s and 80s) were young adults, including such re-creations as a 1950s-era diner, movie theater, library and hair salon, all arranged around a central green. Participants could be served hot lunch at an authentic 1950s-style diner, see a black-and-white film at the movie theater, play pool, get their hair styled at the on-site salon or tinker with a 1959 Ford Thunderbird at the service station. Participants are placed in interest groups of five people and rotate through the areas very much like someone rotating classes in high school or college, spending 45 to 50 minutes in each area. "The initial response to Senior Helpers Town Square has been overwhelmingly positive, and we hope to have 100 Senior Helpers Town Square locations operating all across the U.S. within the next three years," Senior Helper CEO Peter Ross said. A second location is under construction near Baltimore in a former Rite Aid in White Marsh, Maryland, Citylab reports. Senior Helpers will own that facility, which will open in early 2019. A third location is planned for the Chicago area. Presumably, future versions of Town Square would evoke later decades, and according to Glenner, its partnership with the San Diego Opera Scenic Studio will enable it to update the areas as time passes.
Source: Bisnow
/wp-content/uploads/2020/08/florida-medical-space-logo.png
0
0
admin
/wp-content/uploads/2020/08/florida-medical-space-logo.png
admin
2018-09-30 22:09:46
2020-12-28 02:51:46
A 'Model Town' For Treating Dementia Is Set To Be Replicated In Abandoned Big-Boxes And Strip Malls Around The U.S.